Repaint of two concrete mixers in Mebin livery
At the moment I have three concrete mixers in my collection, all in factory livery: an Actros 8x4 with Stetter mixer, an Actros 8x4 with Putzmeister mixer pump and a MAN TG-A with Liebherr mixer semitrailer. These models will all be repainted in Mebin livery. Also some parts will be exchanged between the models, resulting in the following models:
Mercedes Actros 8x4 with Stetter mixer
MAN TG-A 8x4 with Putzmeister mixer pump
DAF CF with Ginaf SensAxle trailing axle and Liebherr mixer
Because the modification of the DAF will need more work than the other models, this will be a separate project. More about this project later on another page.
Underneath a sample of the Mebin livery (with thanks to Mebin for the picture).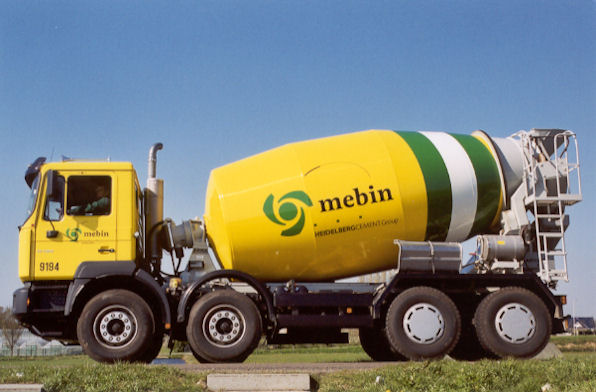 Progress
Click on a picture for a larger view.



© www.mhwsmits.com
All photos are property of mhwsmits.com, unless stated otherwise. None of the photos may be stored, copied, or used on other websites or media without written permission of the rightful owner.
To request photos, or for information about photos, please contact the webmaster.